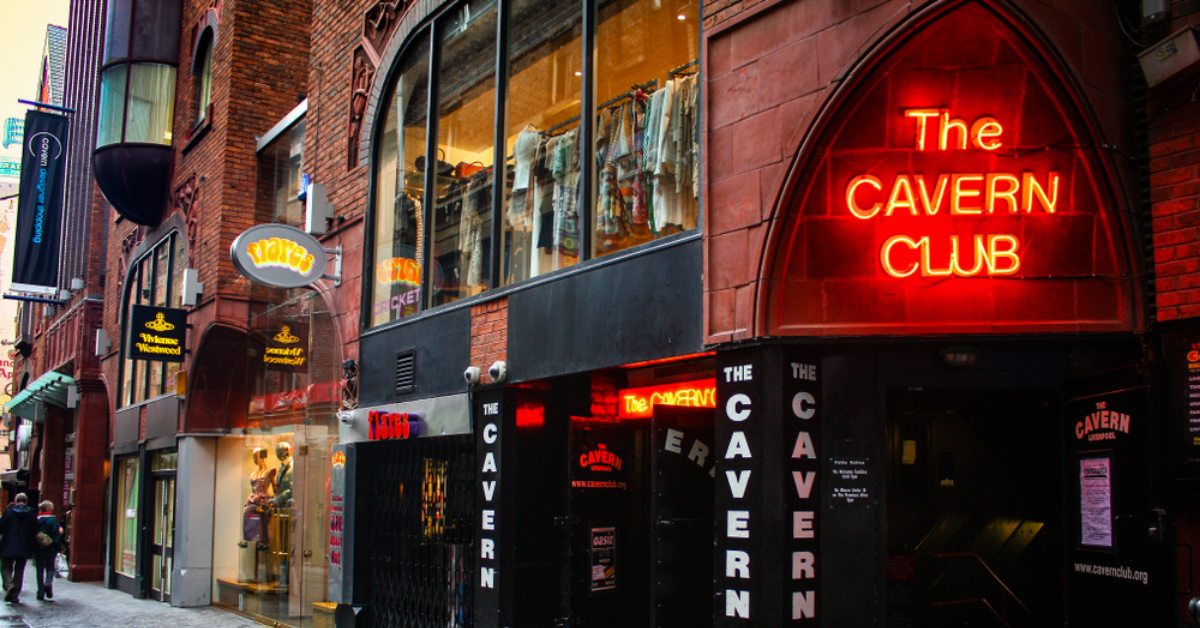 Live Music Venues in Liverpool
Although Liverpool is famous for many, many things, music might be top of the pile. The lyrical talent produced by our city is paralleled by no other (steady) so honestly, no matter where you end up on your crazy night out, you're probably going to catch some amazing live tunes.
Having said that though, we've gone to the effort of narrowing down some of the very best places across the city to view live music: from Matthew Street to the Baltic Triangle – here's your one-stop-shop for the Liverpool live music scene.
The Cavern Club
We thought we'd get this one out of the way, as it's probably no surprise at all to see this venue make this list. The Cavern Club is the iconic home of The Beatles (at least symbolically) as the place played host to the fab four in the early days of their career.
Nowadays, they've pretty much got live music going on every night, so if you're looking for a definite place to experience some in-the-flesh set lists, this place on Matthew Street is an absolute no-brainer.
Grand Central Hall
Liverpoool gig venues come in all shapes and sizes, but few quite as impressive as this one. Grand Central Hall is one of the most beautiful buildings in the city (and trust us, there are a lot of them) so if you're lucky enough to bag tickets to a live gig here, you know you're in for the star treatment.
More often than not, the live music here is a little more Beethoven's Fifth than jungle massive, but regardless of which event you're going to see, live music here will be an experience and a half.
Hangar 34
Located up on the Baltic Triangle, Hanger 34 is a haven of dance, garage and electro music. They're live music nights regularly feature established and up-and-coming DJs that attract ravers from all across the city, so if you see an event listed that looks like it might be your cup of tea, you absolutely need to be there.
While they run events throughout the year, it's the weekends where most of the action is, making this venue one to bear in mind especially if you're visiting Liverpool during that time.
Rubber Soul
Subtitled: "The Beatles Bar", Rubber Soul is one of those places you may try to avoid on a night out, but always end up there anyway. It's located on Matthew Street, so it's easy to tumble out of one place and straight into this one, and the complete mix of music they play always draws in a large and varied crowd.
There's also a few bars that are part of the Rubber Soul complex, meaning that whether you're looking for an open mic night to discover new music, a DJ set that blasts the golden oldies, or even just a place to watch the footy, Rubber Soul is the place to be.
Heebie Jeebies
Anyone who's been to Heebie's will tell you one thing: it's about fun. Seel Street is like the heart of Liverpool nightlife, and Heebie Jeebies is the heart of Seel Street, making it an absolute must see destination for anyone looking to just have a good old laugh.
It's as chill as they come though, the dark interior and comfy booths serving as a great place to park your backside and just watch some great live music. It's a proper staple of a Liverpool night out – five stars, definitely must visit.
SGT Pepper's
Named after the legendary Beatles track, you'd better believe that Sgt Pepper's on Matthew Street has live music going seven days a week. Inside it's almost a recreation – a homage – to the bars of the 60s that launched the massive British bands we all know as geniuses today, giving you a feeling of travelling back to a time when live music was appreciated above all else.
They make a big deal out of trying to recruit new acts to satisfy their customer's itch for new live music, and they do it so well that on many occasions they have to actually close applications temporarily – to perform here is a massive win for an independent act.
The Shipping Forecast
Located on Slater Street right by Liverpool central and in very close proximity to Seel Street, The Shipping Forecast is one of the most beloved pubs in the city. Obviously, you've got all the typical beers and ales on tap, an array of yummy pub food to dig into, and a booklet full of special live events to enjoy.
Of course, live music is a regular feature when these live events occur, and there's a full list of all upcoming events on the ticket sites. Alongside the tunes, they house comedy, theatre and sport events, so whatever floats your boat, you need to get on the shipping forecast (there's a pun in there somewhere).
The Jacaranda
When it comes to live music bars, Liverpool's The Jac is about as cool as they come. Claiming to be the first place The Beatles ever played live, it's all about the style, as the venue doubles up as a vinyl record store as well as a live music venue.
This one is also on Slater Street, and we think it's safe to say that it's definitely a favourite of city residents. As you may expect from a place that claims to have begun the Beatles' career, there's always something different going on at Jacaranda, so definitely get yourself down and pop your head in if you enjoy exploring new music.
Arts Club
By far and away one of the most authentic music venues in the whole city, The Arts Club of Seel Street has hosted more genres of music than Glastonbury (prove us wrong), making it one of the most ideal destinations for live music lovers.
The palace has multiple floors and massive open rooms designed specifically for liver music, intimate gigs, and even messy raves. If you threw a stone in Liverpool, we reckon you'd hit someone who'd openly claim that The Arts Club is one of the best venues around, so if you even see one of your favourite bands performing there, we'd say it's a must-buy.