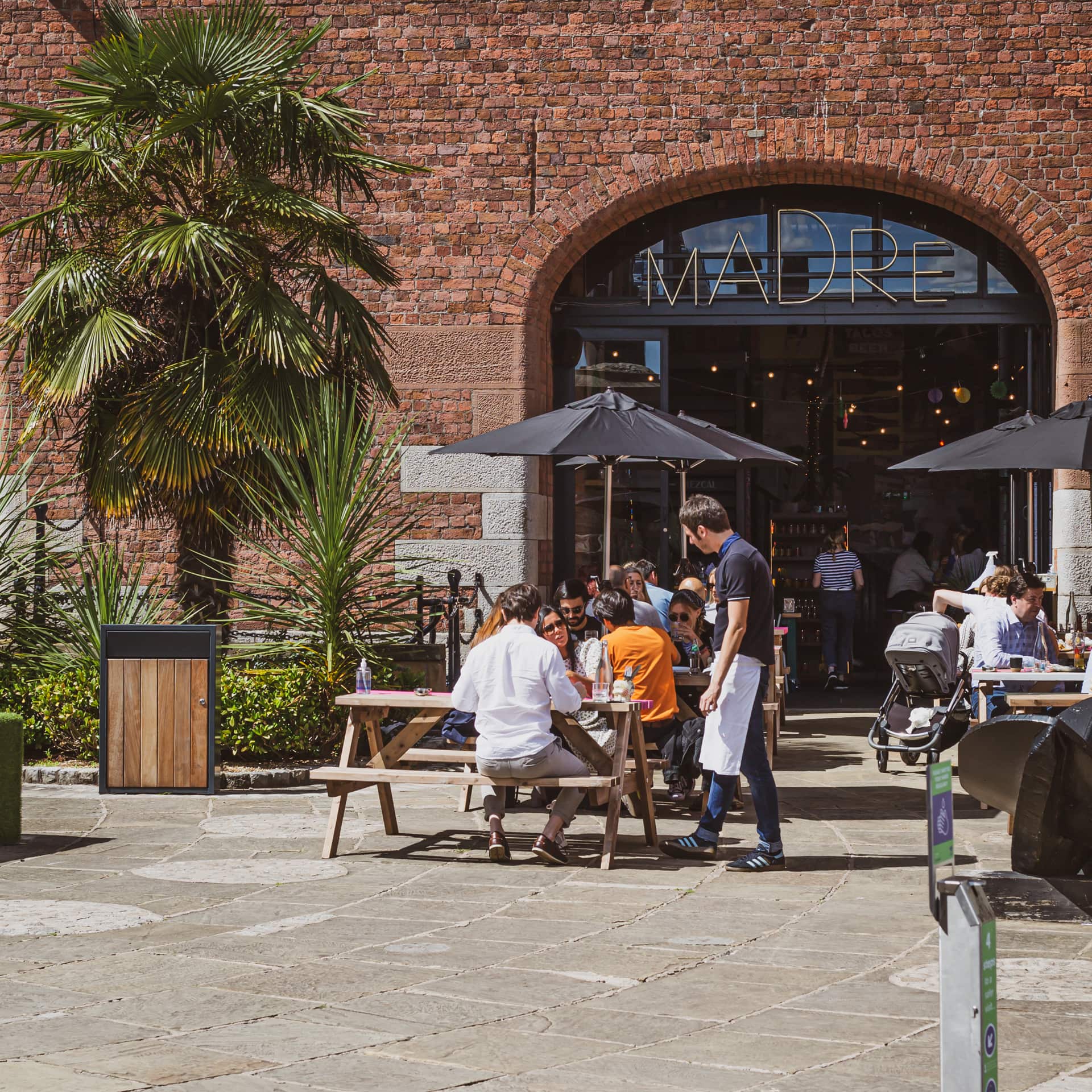 Top 10 Outdoor Bars in Liverpool City Centre
Summer is approaching and we're hungry for some sunshine and a decent beer garden.
Choosing the best bar to go to can be a challenge, but picking a bar with a spectacular beer garden and outdoor space can be a real minefield!
We have listed the top 10 outdoor bars in Liverpool City centre for you to relax, take the edge off the working day and enjoy some drinks in the open air.
1. Matou
Front and centre on our list is and to the river Mersey, Matou has more to offer than just deliciously crafted cocktails and mouth-watering Pan-Asian style food. Matou has an expansive promenade at the side of the restaurant that radiates elegance and showcases some of Liverpool's best-known scenery.
The spacious suntrap, allows you to indulge in the city views and enjoy the fresh Mersey breeze; perfect in the summer sun.
Facing the three graces and the river Mersey, there really is no better outdoor bar for such a stunning backdrop. The cocktails are to die for and so is the view from the large balcony style outdoor seating area.
Located on the top of the Mersey Ferry Terminal building, Matou offers a relaxed and stylish dining experience with the option to enjoy a catch up with friends over some drinks and a chance to unwind while watching the city go by.
2. The Clubhouse
This Hamptons style beach house with a large garden space and a balcony style terrace that lets you soak up the sun from all angles.
The Clubhouse has a casual seaside style with on-theme deck chairs, large sociable tables and snug outdoor sofas to create the perfect outdoor getaway right in the heart of the city centre.
Comfortable seating areas around a large patio and grassy area are ideal for big groups and couples who love gins, beers and ales.
The Clubhouse's outdoor space is located at the top of Chavasse Park exposing guests to Liverpool One's gorgeous bars and restaurant area.
The restaurant caters for all with a diverse menu; including a kids and non-gluten menu and can be quickly access by the outside kitchen. Grab a quick snack with the wide choice of starters, sides, Deli boards and nibbles and enjoy under the summer sun.
3. Free State Kitchen
Fancy a chilled drink in the garden but don't have a garden? Don't worry, Free State Kitchen has you covered! Giving you enchanted garden vibes, this private outdoor space is perfect for chilled out summer drinks with friends.
Free State kitchen's garden has plenty of space for you to sip on their delicious cocktails in the sun, have a few pints with the lads or just to have some tranquil alone time under the well-thought-out balance of this urban and botanical oasis.
Free State Kitchen is the perfect spot for some well-deserved relaxing time away from the hustle and bustle of the city and into a garden escape.
Located on Maryland street, the bar and restaurant is hard to spot as the garden is a tucked away treasure. The garden is casual and unpretentiously cool with a large green area and ample places to park your bum all day.
4. Pump House
Catch the Pump House on a sunny day and you will have a hard time staying out of the sun. The Pump House offers fresh sea breezes and views over the stunning Albert Docks.
The location and backdrop are what's best about this pub's outdoor space. The sunken patio gives way for some Instagram-able snaps along side of the Canning dock and the Leeds and Liverpool canal.
Newly revamped, this dockside pub is a must for it's traditionally styled outdoor area where you can eat, drink and take in the spectacular views of the Albert dock, the river Mersey and the strand.
This outdoor space is the ultimate suntrap and great to catch some sunshine- especially with a pint in your hand. Summertime walk beer breaks are a must in this pub!
5. Aether
Only a short walk away from the Clubhouse is bar with a sleek interior and some of the best tasting cocktails in the city centre.
Aether hosts a lost paradise theme and two stylish outdoor spaces to unwind after a hard days work with a beer, or for an outdoor catch-up and cocktails with friends.
Aether's front outdoor area is compact with a gorgeous view of Chavasse park, the top of Liverpool One and the Hilton. Chavasse park is the perfect place for sun exposure and Aether utilises this with the front entrance outdoor area perfectly.
Not to be overlooked by the decadent side courtyard, encase with chic black decking and glass to go alongside the sophisticated décor throughout the bar. Aether's side decking area has chilled sofas and plenty of space for all of the outdoor occasions.
Similar to its already popular sister the Alchemist, Aether gives off a fresh and stylish vibe to outside bar space that mirrors its drink's menu.
The drinks menu has a tailor-made cocktail list with themes of the elements; earth, wind, water and fire to cater for anyone's taste- Bee sting is an essential recommendation.
6. Baltic Market
Located in Liverpool's creative district, Baltic Market offers an indoor food market with an eclectic mix of food vendors and a bar menu featuring Vimto gin slushies and Lotus biscuit Espresso Martinis.
Baltic Market expanded the indoor venue adding a huge outdoor seating area so you can enjoy the variety of food vendors whilst making the most of the Summer sun.
With local restaurants such as Pattersons taking up a stall in the market bringing you Katsu fries and salt and pepper chicken burgers to Little Korea who trade exclusively in the market – there is something for everyone!
7. The Merchant
Right in the heart of the heart of Liverpool's club district, The Merchant is a cozy bar with ample outdoor seating area and booth style like seats to get any conversation flowing.
This bar is perfect for a catch up with a group of friends (large and small) with the Merchant's famous gin goblets and pizza. The outdoor area has a casual and friendly atmosphere with plenty of opportunity to catch some rays.
Fancy a quick bite to eat? The merchant also has a sister business called Nightcrawler Pizza which sells delicious pizza by the slice or as a whole- be careful ordering a whole one to yourself they are enormous! Nightcrawler Pizza is attached to The Merchant's outside area via a small corridor that is perfect to nip down if you're feeling peckish.
The Merchant also offers some amazing themed events such as, 'Not another Bowie night,' 'National Pizza Day' and 'All the Single ladies' night. The events range from a mixture of tech-house parties, brining DJ's like Artwork to the dance floor, to their ultimate 80s party.
8. Kazimier Gardens
Hidden and mysterious, number 8 on our list is hard to spot to the unfamiliar eye, however, it is definitely one to look out for! With its unusual, unsigned door but distinctive entrance.
The Kazimier Gardens (or 'The Kaz') is located on Seel Street and can be easily missed! Through the unmarked door guests will find a little oasis that will bring all your rustic, indie dreams to life.
Formally an old car park, The Kaz uses recycled materials and quirky, odd furniture that embodies an important message of sustainability and taking care of the environment. This outdoor space is causal and has some distinctive seating that is perfect for a candid Instagram post in the sun.
With a good selection of rotating IPA and draft beers, Kazimier Garden is a stunning little chill out spot that emphasises a laid-back and relaxed vibe, perfect for some summer sun.
9. Red door (Eden)
Red door is a staple Liverpool club during the night- but what many people don't know about this bar is the cozy roof-top terrace.
Accurately named Eden, the terrace has a contemporary feel with modern decking, plush cushions and greenery to host a relaxed and serene afternoon with family members or a night out with friends.
Located on Berry Street, right next to The Bombed out church, this outdoor space has ample space and quirky seating areas that oozes rustic chic.
Red Door is notorious for their award-winning cocktails and Eden will mirror this with their bespoke cocktail menu to please any taste pallet.
The chilled out and tranquil atmosphere is perfect for any occasion but is especially perfect for those summer sunny days when all you need is a drink in the sun.
10. Lady of Man
Tucked away in the heart of the business district is a little, hidden pub squeezed in-between office buildings- you could easily blink and miss it.
Lady of man is a hidden gem, with football coverage and a large courtyard to catch up with friends or just to soak up some mid day rays with a pint.
Lady of Mann has a traditional pub style with some mouth-watering ale choices; perfect for the summer nights in the snug courtyard. You have to enter the pub through a tunnel-like walkway in the middle of Dale Street which will bring you into the cosy courtyard.
Fairy lights and heaters illuminate the outdoor space to keep you relaxed even when it gets a little chilly. The pub also offers a variety of fresh cakes, pastries and pies if you fancy a quick snack before the match!
There you have it, the best places to visit when the sun comes out to enjoy a beer, cocktail or some food in Liverpool City Centre.