Duke St Boutique's Guide to Bold Street's Food & Drink Scene
Bold Street is possibly Liverpool's most famous street, not only for its history but for how it has evolved in to one of the most thriving areas in the city. It is now home to a variety of shops, restaurants and bars which are frequented by Liverpudlians and tourists. 
No matter how many times you visit Bold Street, you will always find somewhere new to try. From art shops to vegan restaurants, cafes that progress into bars as the sun sets to Turkish restaurants and everything in between. It is a bohemian dream. 
We are going to provide you with the ultimate guide to Bold Street, from its history to the best places to visit through the week and of a weekend. 
A Brief History of Bold Street
Bold Street was originally used as a ropewalk, which is a long, thin piece of land used to measure rope that would then be used on sailing ships. The length of Bold Street was the standard measurement of rope needed on the ships. This is why Bold Street and the surrounding area is known as Rope Walks. 
The street is named after a controversial slave merchant, sugar trader and banker, Jonas Bold, who in 1802 became the Mayor of Liverpool.
The development of Bold Street began back in the 1700's when it was used as a rope walk due to the workers needing somewhere to live that was close to their workplace. Hanover street was the first to be developed in to housing, followed by Duke Street and then Bold Street. 
Bold Street is shadowed by the iconic landmark St Lukes Church, commonly known in the City as the Bombed Out Church due to it falling victim to a bomb during the Liverpool Blitz in 1941. Since then, the church has remained roofless and has in the past few years been used as a venue for open top cinemas and other events. 
Our Favourite Cafes on Bold Street
Breakfast Is the most important meal of the day as they say, so when you're strolling around town looking for your morning meal, where is the best place for breakfast on Bold Street?
Bold Street Coffee
Think Mcdonalds but with a Michelin star and you're in Bold Street Coffee. The Baristas at BSC know how to make a proper cup of coffee, from bean to cup the coffee is luxurious but not pretentious as you'd often find in an independent coffee shop. Espressos top the menu and puppachinos finish it off, need we say much more? No, but we will. Coffee beans imported from Rwanda, Ethiopa and their signature blend from Honduras, and that's just the start of the coffee bean menu. BSC also offer a range of iced coffees for a hot summers day, tea for those who are opposed to many people's much needed caffeine fix and a variety of retro sodas and juices. 
Now we arrive at the food menu, and we could talk about it all day. We are sure you're familiar with the Mcdonalds breakfast muffin, imagine that made with fresh ingredients and with some added ingredients – you've got the Buoy! 
Choose from sausage, bacon, egg or a veggie alternative. The sausage and bacon Buoys come with melted cheese, scrambled egg and sauce on a brioche bun. We recommend adding a hash brown but be warned, it's so big you're going to struggle to eat it on the move. 
Finish off your breakfast on Bold Street with a sweet treat from the ever changing bakery in Bold Street Coffee. Brownies, muffins, cookies, cheesecake donuts and more. 
Organico
Are you Vegan, Vegetarian or just looking for a healthy option? Organico is a juice bar and eatery serving uncomplicated and delicious foods that are locally sourced. 
Acai bowls, vegan pancakes, super food green omelette are just some of the items on the breakfast menu. The lunch menu offers a more varied range of items, but still sticking to the healthy theme. Turkish eggs, fish finger burger and Thai green curry are some examples of what you have to choose from. 
Organico serve a huge range of drinks, from traditional coffees and teas to super healthy smoothies and ginger and turmeric shots – all designed to increase your health. 
This all sounds pretty amazing up to now and we haven't even got to the main attraction, the variety of vegan and vegetarian sweet treats, cakes pastries and more. A common struggle In the vegan and vegetarian community is finding a suitable dessert but Organico really have cracked it. Raspberry macaroons, Victoria sponge, chocolate cake and more, and you wouldn't know the difference between these and the traditional versions. 
Our Favourite Restaurants on Bold Street
Elif
A traditional Turkish BBQ restaurant that prides itself on serving up excellent quality food in cosy surroundings. If you're a fan of ordering a mixture of different dishes, putting them in the middle of the table and sharing with everyone then Elif is definitely for you. 
The variety on the menu makes it difficult to choose just one thing, which is why sharing with everyone you're with is such a great idea. Lamb chops and chicken cooked on the open fire BBQ are by far the restaurants staple dishes.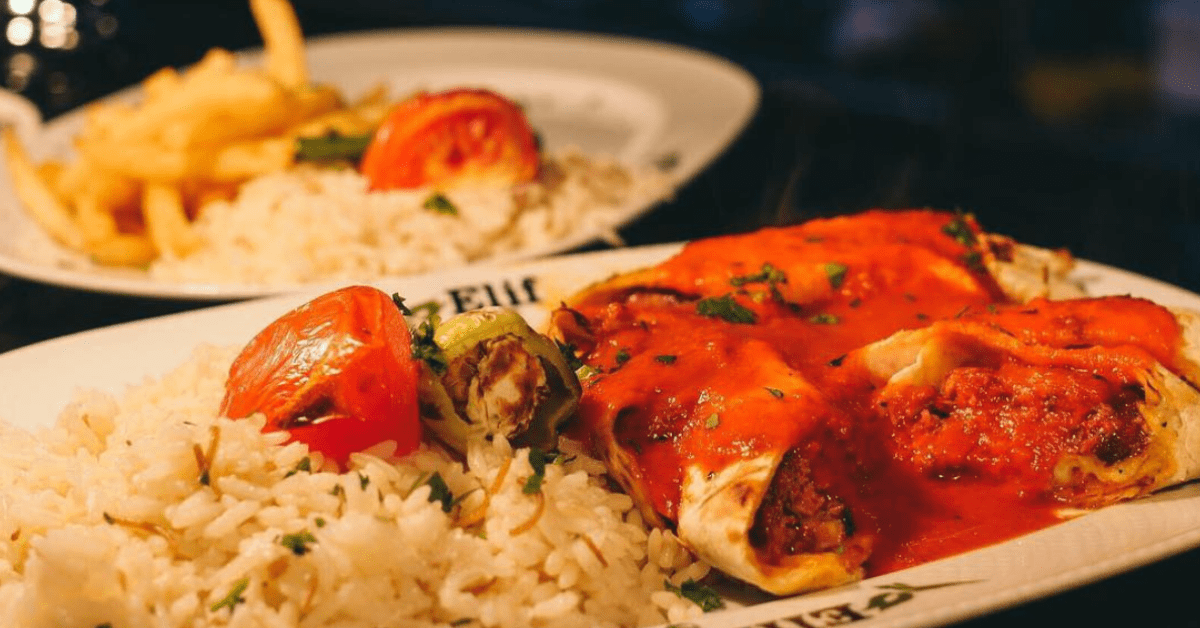 All main courses are served with bread, rice and salad and even those simple side dishes are a taste sensation – and that's before you've even chosen what you'll have as a main! The seafood is not something to be ignored, again cooked on the open fire BBQ, they offer sea bass, sea bream, salmon and king prawns – you can taste straight away how fresh the produce is. 
Pair your meal at Elif with a traditional bottle of Efes Turkish beer and enjoy a night of delicious food and good company with whoever you choose to take along and share this sensational food with. 
Mowgli
Authentic Indian street food done right. That is the only way to describe Mowgli. 
Founded in 2014 by Nisha Katona who wanted to share simple Indian dishes that convey the true Indian style of eating – distancing it from the curry stereotype and serving true Indian food which is usually healthy, sometimes vegan and always filled with flavour. 
Mowgli have two restaurants in the city centre but Bold Street was first and we have to say it's the best. It is a small restaurant with an intimate feeling but when your food is served in sharing tiffin dishes, the restaurant comes alive. The tables are close together and you can't help but peer on to the next table to see what they've ordered, often striking up conversation. It is the perfect atmosphere. 
The menu often shocks newcomers who expect traditional curries when they are greeted with chat bombs; bread puffs filled with chickpeas, spiced yoghurt, tamarind and coriander and the Himalayan cheese toast; coriander, red onion & green chilli dressing, sharp cheddar served with Indian pickle. 
Don't fret, this is just the starters and don't turn your nose up at them – they're a taste sensation. The mains may be more similar to what you're used to seeing but the taste takes Indian curries to a whole new level. From the house chicken curry to the goan fish curry, no matter what you choose, your tastebuds will be thanking you.
Maray
Another intimate restaurant serving up small plates (which we now realise is a running theme on dainty Bold Street) is Maray, a restaurant inspired by the flavours of the middle east. 
The menu is arranged in three parts, Mezze, veg, fish & meat making it easy for you to choose. It's a small menu but it is bursting with flavour. The most infamous dish on the menu is the 'Disco Cauliflower' and yes the name does do it justice, your mouth will be hosting it's very own disco. A whole cauliflower with chermoula, harrisa, tahini, yoghurt, pomegranate, almonds and fresh herbs – who knew a cauliflower could be so complicated and so tasty!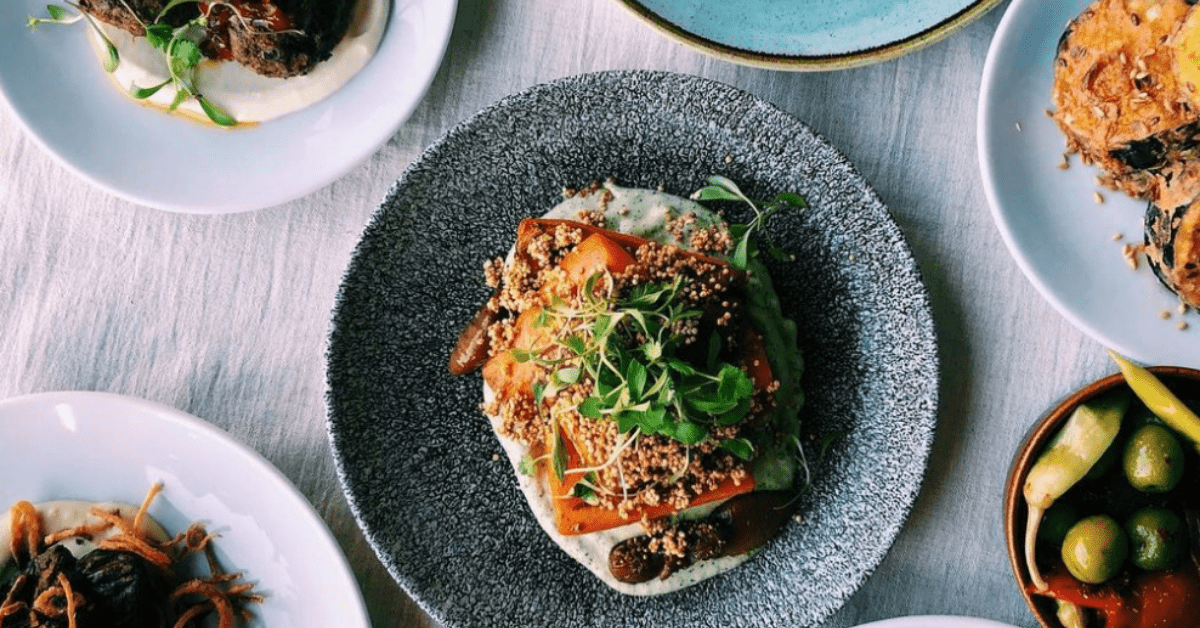 That is just the tip of the Maray menu iceberg, the lamb kofta and buttermilk fried chicken are a must have to accompany your disco cauliflower but there are a huge variety of dishes on the menu. No matter how fussy your friends are, everyone finds something they love on the Maray menu.
If you enjoy your wine, be sure to speak to the knowledgeable bartenders and try some of the carefully curated wines Maray have in their collection.
Our Favourite Bars on Bold Street
Ropes & Twines
'Speciality coffee shop and wine bar' – are you booking already because we are! If you're looking for an education on coffee or wine then you have to visit Rope and Twines, the beautiful, open, relaxed environment makes it an enjoyable place for both wine lovers with vast knowledge to newbies just starting out on their wine journey. 
Organic wines are at the centre point of Rope and Twines and they will not disappoint. 
Let's not forget the all important bakery that hides within the venue. Freshly baked in store every day are a variety of cakes, cookies, biscuits, brownies and more, all with an original twist. We won't spoil the surprise, pop in on your lunch break and grab something from the bakery and a bottle of organic wine to take home to enjoy after work. 
Café Tabac
A Bold Street legend, some may say. Café Tabac sits at the top of the street and is favourited by many of Liverpool's residents and has been since it was established in 1974. 
A bohemian style café that transitions in to a thriving bar in the evening. 
Whether you go for breakfast and coffee in the morning, lunch and a pint in the afternoon or dinner and cocktails in the evening, you'll be greeted by a happy bartender and you'll definitely meet some scouse characters. 
Don't underestimate Café Tabac, the cocktails are the best on the street. 
So next time you're staying at Duke St Boutique, make sure you head to Bold Street and explore the wonders that call the street home. We've got you covered for breakfast, lunch, dinner and cocktails – plus the after party is at ours!
Where to Stay Near Bold Street?
One thing Bold Street is missing is a hotel but don't fret, just around the corner you'll find Duke St Boutique! Whether you're planning a night out with friends, a family meal or a romantic night with your partner, Duke St Boutique can cater to you!