3 Best Pizza Restaurants in Liverpool
Pizza is one of our favourite foods. It always proves capable of satisfying a craving nothing else can match. When you decide to have pizza (whether for the third time that week or for the first time that month), nothing else will do: you need to get your fix.
It's come a long way from Naples, but this classic Italian street food has found a happy home in Liverpool. You can find some of the best pizzas around throughout the city, from New York slices to Detroit-style slabs and all the way to the bubbling and blistered, chewy Neapolitan original.
Whether halfway through a night out or for someone looking for a quick lunch midway through a walk through the city centre or even those seeking a sit down meal, there's a pizza for every occasion and every appetite.
We've selected a few of our favourites for you to pick between. To be honest, though, all of them will fill that pizza-shaped hole in your day!
American Pizza Slice
This is a Liverpool institution. Luckily, there are two in the city centre. If you're in Liverpool One and the weather's looking auspicious, head for the hole in the wall on Whitechapel for a bite on the go.
If you're working your way up Bold Street, at the top you'll find the other American Pizza Slice with seating upstairs, downstairs, and outside. (If you're visiting Antony Gormley's Another Place in Crosby, there's a third venue on South Road, just along from Waterloo train station.)
APS is famed, as the name suggests, for its huge, delicious, and inexpensive New York-style slices. Choose from the fiery American Hot – pepperoni, salami, and a generous dusting of fresh and dried chilli – or barbecued pulled pork with smoked cheese, divisive classics such as Hawaiian, or the divine Buffalo: mozzarella, buffalo chicken, and ranch dressing. Best eaten folded over and washed down with one of the American beers stocked in the fridge.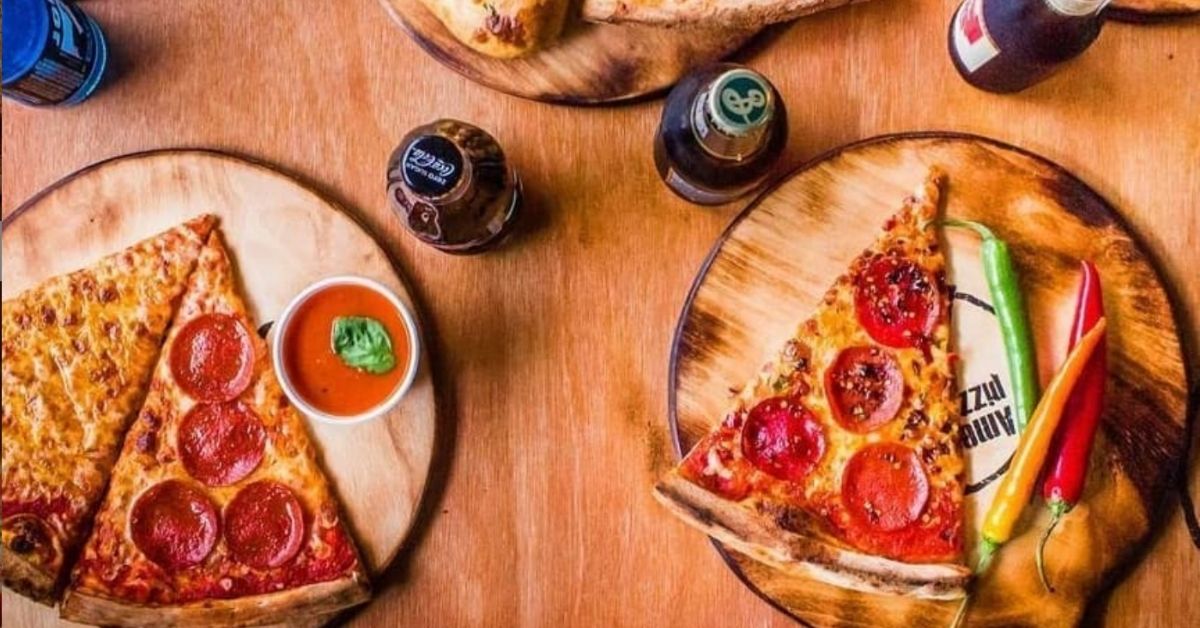 Also on offer are a type of pizza originating from Detroit: rectangular with a thick, chewy crust, and famous for its moreish, crispy caramelised cheese border. This isn't one to miss. APS offer a handful of options.
We recommend the 'ndjua. A perfect blend of fiery Calabrian sausage, oozy cheese, sweet tomatoes, picante peppers, and hot honey. Sweet, spicy, and satisfying!
Oh, and if you're feeling brave or you're with a group, APS sell (and deliver!) mammoth, 18" versions of their pizzas. If you're feeling particularly indecisive, you can even mix and match eight different toppings, arranged into a circle of deliciousness.
Crazy Pedro's
Having started in Manchester, Crazy Pedro's made its way along the East Lancs and opened shop on Parr Street, settling down beside Almost Famous, Santa Chuptios, The Merchant, and Parr Street Studios.
Things are oh so relaxed in Crazy Pedro's. Order at the bar, grab a bevvy, and wait for your order to be called. You've got some seriously surprising, and surprisingly delicious, options to choose from. Let's start with the infamous hot dog pizza: sliced frankfurter, American cheese, crispy onions, mustard and ketchup. Sounds like a transatlantic transplant gone awry? Maybe. Delicious? Absolutely.
There's also chicken-based mash-ups: the KFC (sriracha fried chicken, kimchi slaw, chilli and spring onion) and the fried chicken and waffle, which is exactly what you'd expect, though maybe not on top of a perfectly crisp pizza base.
There are numerous veggie options to sample, and a couple of vegan offerings that are worth tucking into. Finally, and maybe most weirdly, is the chippy tea. Chippy tea? Yes: sausage, chips, mushy peas (no pea wet), and curry sauce. You're in Liverpool, and Scousers take their chippy dinners very seriously. Thankfully, so do Crazy Pedro's.
With so many (too many!) tempting toppings to sort through, we recommend heading down for happy hour: £10 pizzas, £2 slices, and two cocktails for £10 from Sunday to Friday, 5-9pm. Go for the pizza, stay for the excellent, tequila-centred drinks, décor, and beer pong tables. Beer pong? Oh yes, we forgot to mention that…
Crust
A Liverpool institution with two locations. In the middle of bustling Bold Street you'll find this aptly named pizzeria. If you're in the suburbs, maybe visiting Strawberry Fields, John Lennon's house on Menlove, and wandering through St Peter's graveyard trying to find Eleanor Rigby, saunter down into Woolton village and, happily, you'll find another Crust, perfect for a quick lunch or a sit-down meal.
Grab a bottle of Italian wine or lager such as Ichnusa, Menabrea, and Gradisca. There are nibbles to get you going — prosciutto or bresaola, sweet and succulent king prawns, calamari, and melting, luxurious burrata with pesto — and Tuscan bread bruschette to mull over.
While Crust offer some tempting pasta dishes and salads, we're there for the wood-fired pizzas, aren't we? No point in kidding ourselves.
Where to start? Well, you can't go wrong with a classic margherita, the true test of a pizzeria. There's nowhere to hide; there's only the sweetness of the tomatoes, the creaminess of the mozzarella, the basil's lingering fragrance. But we've all been there before, haven't we? And while it is a good barometer, we'd suggest branching out and trying something a little off-piste.
How about the endlessly moreish Tirroles? The savoury, slightly tangy combination of gorgonzola and speck ham is a winner every time. Or the classic calzone: cooked ham, fior di latte mozzarella, tomato pizza sauce. Or the truffle pizza, an indulgent layering of Piedemontese black truffle and buffalo mozzarella. Or the Siciliana, a mix of all things delicious and savoury, including anchovies and capers and olives, is perfect with a couple of beers or a shared bottle of red — maybe a primitivo.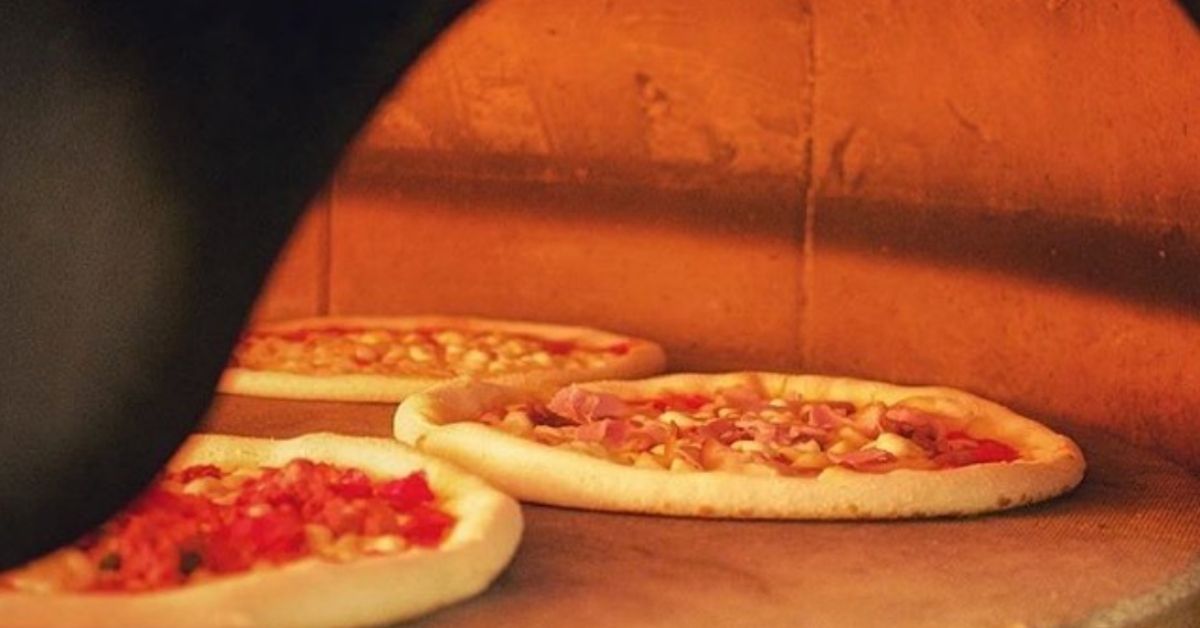 Our personal favourite — and bear with us — is a pizza bianco: a white pizza. That means without tomatoes. And no, it isn't heresy to have a pizza without the familiar tomato base! Try the Bella Napoli, a winning combo of buffalo mozzarella, smoked provolone, friarielli (a kind of broccoli), and heavenly Italian sausage. Forgo your usual habits and give it a try; perfect with a bottle of dry white such as Soave or Pinot Grigio.
Whatever you go for at Crust, you're guaranteed a fantastic meal because of the incredible base used for each and every pizza on offer: slow-proved, soft in the centre, and chewy and blistered and bubbly at the edges.
Moreover, when you've chosen from one of the thirty-plus options, you'll have to chose between bases: original, five grain, organic, and black dough. Don't worry, each is delicious and we've never found the original, sourdough to be wanting.
The black dough is a result of the addition of natural vegetable charcoal, which is supposed to alleviate intestinal upsets and is claimed to be detoxifying. We can't speak to any homeopathic effectiveness, but the dough is both delicious and visually striking. Saying that, it's always good to know that you're doing your body a favour as much as your tastebuds.