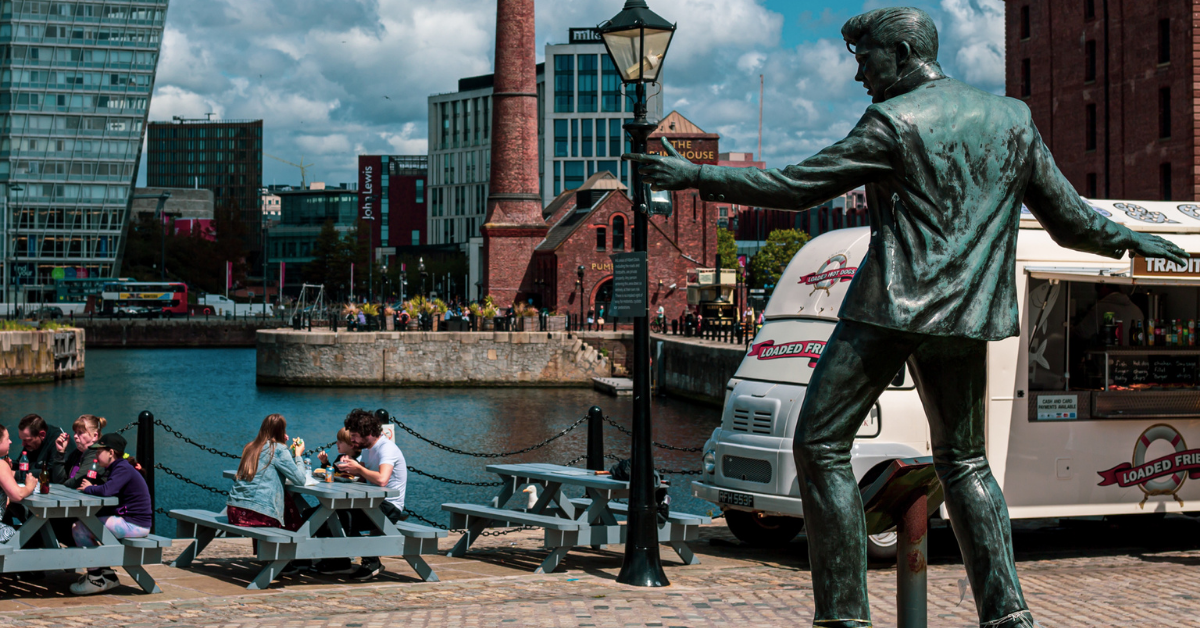 Best Outdoor Food Venues in Liverpool
Now that we're through the tunnel and out the other side, all of our first world problems have returned. Things like trying to make sure nobody sits next to you on a train journey and actually having to go into the office for that Monday morning meeting are real issues again – oh the humanity.
Moreover though, this severe lack of a proper pub to go to has been the biggest blow to our dear country, so while we all get back into the groove by heading straight to our nearest Red Lion, here's our list of the very best food venues in Liverpool that feature outdoor seating.
El Gato Negro
A bit hit in the North West, El Gato Negro specialises in traditional Spanish cuisine and is cooked using traditional Spanish techniques, so you now you're getting the authentic taste of Espania when you sit down to dine here.
The place is three floors tall, giving the whole interior a real elegance that doesn't just extend to the food. El Gato Negro prides itself on a fridge full of Spanish wines and sherries that are sure to turn your meal from a quick snack into a tantilising treat.
The place is right next to Moorfields train station in the Exchange Flags, making it easily accessible for anyone lucky enough to be visiting Liverpool this summer.
Gusto
When it comes to classy Italian food, you won't be wanting for anything after a meal from Gusto. The quality of the food is absolutely impeccable, with options based on classic Italian food (if you're a pasta fan, you're in for a treat).
It's situated right on the docks, a short walk from the city centre, placing it in the ideal location for both a quick lunch and a long romantic dinner with the other half.
Turncoat
Half gin distillery, half swanky bar – Turncoat is the place to go if you're a fan of gin, food, outdoor dining, or all of the above. It's located on the docks right by the Maritime Museum, just a short walk from all the hot spots, so you know that if you choose to go with these guys for your al fresco dining, you're going to have one hell of a view.
They specialise in pizza when it comes to food and operate a walk in only policy, which will come as a breath of fresh air at the moment in time, and being a small independent organisation you can be sure they'll give you the very best service available.
Madre
Bringing a little bit of Mexico to the waters of the Mersey isn't easy, but that's exactly what Madre does – and does well. Refried beans, nachos, quesadillas and tostada, Madre hits all the authentic Mexican buzzwords and prides itself on a wicked margarita to boot.
Like many of the other places on this list, it's located right on the Albert Dock, which is an absolutely prime location for any eatery looking to make itself as accessible as possible to the people of Liverpool.
Fazenda
If you're into your South American food, this one's for you, because Fazenda is one of the premium Brazillian restaurants. Their heritage is a massive part of everything they do, and you'll be able to see instantly how much they value their recipes – the meat could have come straight off the bone, it's that succulent.
It's located in the Exchange Flags, just a stone's throw from Liverpool one and the docks, so it's in the perfect position for anyone in the city centre to just hop over. At the time of writing you'll have to book ahead, but with their classy selection of drinks available at the bar, you'll definitely not be wanting for refreshment while you wait for your table.
Liberte
Dining outside doesn't need to be formulaic – with Liberte you can do it in style, with the amazing rooftop views providing a more than scenic place to polish off your plate. Liberte serves everything from traditional pub food to gourmet grub, and let's face it: eating your dinner on a city skyline rooftop is just about as good as it gets.
They've got a prime view of the Liver Building from some of their open-top tables, so if you're looking for a fancy place to get some scran, head on down to Brunswick Street and give these guys a try.
The Club House
This place makes "comfort food" (as they put it) about as classy as you could want it, and trust us, when that burge and chips comes on your plate it'll look more Heston Blumenthal than Weatherspoons, because they put some serious effort into making their "comfort food" the very best it can be.
What's more important is that their outdoor seating is incredibly scenic, making it an ideal place for you to rock up with a few friends, chew the fat and sink some drinks. They also do roasts and clever cocktails, welcome parties with kids, and are situated right by Liverpool One.
The Botanical Garden
This place is in the Baltic Triangle, making it a short walk from any city centre hotels, but it is absolutely worth it. It's about as cool as they come if we're talking about outdoor drinking venues, with about a billion choices of gin and other spirits to take a taste of. It's got that rustic feel that makes you feel right at home, making it great for a sunny day's session.
They serve plenty of pub food as well, and it's got a Mexican theme going on. There's nothing better than grabbing a few drinks in the sunshine, retreating to a garden somewhere and digging into some nachos, and this is the perfect place to do it.