Liverpool Bars and Restaurants to Visit in 2021
Even during a pandemic, Liverpool's bar & restaurant scene continues to expand. This year has been incredibly tough on the cities hospitality industry and many have had to adapt in order to survive.
Unfortunately, some of the cities most loved venues including Wahacca, Bread & Butter and Puffle Waffle will be shutting their doors for good.
Thankfully, some businesses continued to see the potential of Liverpool and have decided to go ahead with the opening of new venues in Liverpool.
Take a look at some of the best bars & restaurants that opened in Liverpool.
The Royal Institution, Colquitt Street
Previously open as a private members club, The Royal Institution which closed has reopened in 2020 as a cocktail bar, café and meeting space – no membership required.
Taking inspiration from the prohibition era, this decadent building, which was first opened over 200 years ago is home to an unrivalled 1920s inspired drinks menu in an unrivalled setting.
The décor at The Royal Institution is sleek, bold and reminiscent of its 19th-century history when the Institution was first established.
Whether you have an early morning business meeting over coffee, want to catch up with friends over afternoon tea or looking for a perfect venue for late-night drinks, The Royal Institution is the place to be.
Wolf & Waffle, Berry Street
Wolf & Waffle is a waffle house and bar that has replaced the former Neon Jamon on Berry Street. This concept, which is a first for Liverpool offers diners a unique waffle menu filled with sweet, savoury, vegan and gluten-free options.
Filled with lush greenery, cool minimalistic décor and views of the famous Chinese arch in Liverpool's Chinatown (make sure you get a window seat) it's the perfect place to watch the world go by.
Wolf & Waffle furthermore offers a garden which will be perfect in the warmer summer months, and to enjoy if restrictions carry on into the new year.
As well as offering a selection of waffles, Wolf & Waffle also has a diverse selection of beers and cocktails served throughout the day.
Gong Cha, Bold Street
Bubble Tea has been a trend that has taken over Liverpool and it's showing no signs of slowing down. Gong Cha is a well-known Taiwanese bubble tea brand and in 2020 they opened a dedicated store in the heart of Bold Street, ideal for shoppers to grab a refreshment on the go.
The store offers an astonishing 40 variations of the soft drink which feature a range of textures and layers alongside pearls, fruit jellies and milk foam so customers can make the perfect bubble tea.
If you're new to bubble tea, let the team know and they will suggest some popular pairings for you to try.
Dough Dough, Ranelagh Street
Dough Dough is another well-known brand that has trusted Liverpool with its newest store. Originally launched in Chester in 2019, Dough Dough has been a huge success thanks to its simple yet classic Neapolitan pizzas with a range of dough options including limited-edition bases that change throughout the year.
Cooked in a wood-fired oven, each dough is raised for 24 hours to ensure the best pizza is delivered to your table. Toppings include all of the classics including red and white based pizzas, calzones and even fritto – a deep-fried calzone.
The restaurant faced quite a few setbacks due to the restrictions, but it is now open and ready for service.
The Angus Tap & Grind, Dale Street
Coffee and beer by day, beer and coffee by night, welcome to The Angus Tap & Grind on Dale Street. Opened in August 2020, the pub offers a welcoming and relaxed environment with coffee from local supplier Crosby Coffee and six real ales and 8 craft beers on constant rotation on the bar.
Further sticking to its Liverpool heritage, The Angus Tap & Grind serves up a classic bowls of Scouse, and only Scouse is on the menu. Although it's not a sports pub, you can catch Liverpool and Everton football games played on the large screens, which in the heart of Liverpool on match days is a must.
Dwntwn, Harrington Street
A high-end underground cocktail bar situated in Liverpool's Cavern Quarter, Dwntwn fuses an air of mystery with some of the most spectacular cocktail concoctions.
From signature cocktails, re-imagined classics and spritzes, or even your favourite custom cocktails, the team at Dwntwn can make it for you.
With table service, plush Chesterfield booths, a grand piano and performances provided by their feature DJ and resident lounge singer, a night at Dwntwn is one you'll never forget.
Once everything returns to normal, Dwntwn will be the perfect spot before a big night on the town or even cosy up in one of the booths and enjoy a very special date night in Liverpool.
Lerpwl, Albert Dock
The newest additional to Liverpool's eclectic Albert Dock restaurant offering, Lerpwl is a refreshing take on social dining. The concept, which comes from the Barrie brothers, Ellis from the BBC's Great British Menu and fellow chef Liam.
The two already have one highly successful restaurant in Anglesey – The Marram Grass but have decided their hometown of Liverpool is where their second restaurant will be placed.
With a distinct focus on fresh, locally sourced produce with a menu that changes with the season, Lerpwl (pronounced Ler-pool, the Welsh translation of Liverpool) will furthermore feature Welsh produce.
Set within the historical walls of the Albert Dock, the restaurant is located on the ground floor with a private dining area and DJ booth on the mezzanine level.
BoBo, Castle Street
Iberian bar BoBo opened its doors in August 2020 amongst the ever-popular drinking & dining establishments on Castle Street.
Located in the former site of Veeno, BoBo offers a slice of Europe to this busy city centre street. Serving a host of finely selected Spanish and Portuguese inspired drinks and snacks throughout the day making for a truly unique tapas offering for the city.
The décor of BoBo is contemporary, sleek and full of grandeur such as the antique chandelier that greets guests upon arrival. Perfect for casual dining with friends, date nights or even just a late-night tipple, BoBo is sure to become one of the cities most loved tapas bars with a twist.
Orgânico, Bold Street
At a time when looking after your health has become more important than ever, Orgânico offers a fresh take on healthy eating and drinking in the heart of Liverpool's bustling Bold Street.
Launched in August 2020, Orgânico offers an array of delicious fresh organic juices, plant-based dishes and desserts.
Coming from the team who bought you Bakchich and Kasbah, two of Liverpool's most delicious restaurants, Orgânico is a healthy eating initiative that will help customers discover that they can eat well and enjoy a delicious and diverse menu without compromising on flavour.
The new restaurant will serve breakfast, lunch and dinner and will be open for both dine-in customers and takeaway.
Maggie Fu, Hanover Street
Asian street food in the heart of the popular Liverpool suburb of Smithdown Road. This family-owned, independent restaurant is full of surprises with a menu that will have you going back time and time again to try everything on offer.
From ramen bowls to stir fired dishes, Maggie Fu offers something for everyone.
Perfect for relaxed dinners, quick lunches and catch-ups with friends, Maggie Fu is an all-round success that is waiting to be explored.
The kitchen, filled with Liverpool's best chefs who have perfected family recipes that have been passed down for generations, and can be observed through their open-plan kitchen. The Hanover Street location is set to open in 2021.
Wonton, Ranelagh Street
A contemporary, Asian-inspired restaurant delivering some of the most delicious, bao buns, siu mai and of course wontons. Launched in April 2020.
Wonton provides diners in the Moorefield's area of the city with a quick stop to grab some delicious food, hang out with friends and they even launched a comedy club in December which is sure to be a regular night at this Ranelagh Street restaurant.
If you've got a sweet tooth, then you have to try something off their unique dessert menu such as the deep-fried banoffee bao or custard bun which is served with hot caramel sauce.
When further restrictions were being imposed, Wonton quickly adapted and launched their takeaway service, Wonton to Go so you never have to miss your Wonton fix.
Boujee, Liverpool One
Opening its doors in December, Boujee has quickly become thee place to be in Liverpool thanks to its incredible décor, amazing vibes, great location and delicious food & drink.
Situated in the prime location of Liverpool One and serving sushi, small plates, champagne and cocktails, Boujee is the perfect place to enjoy a Friday & Saturday night, birthday celebration, hen do or even date night.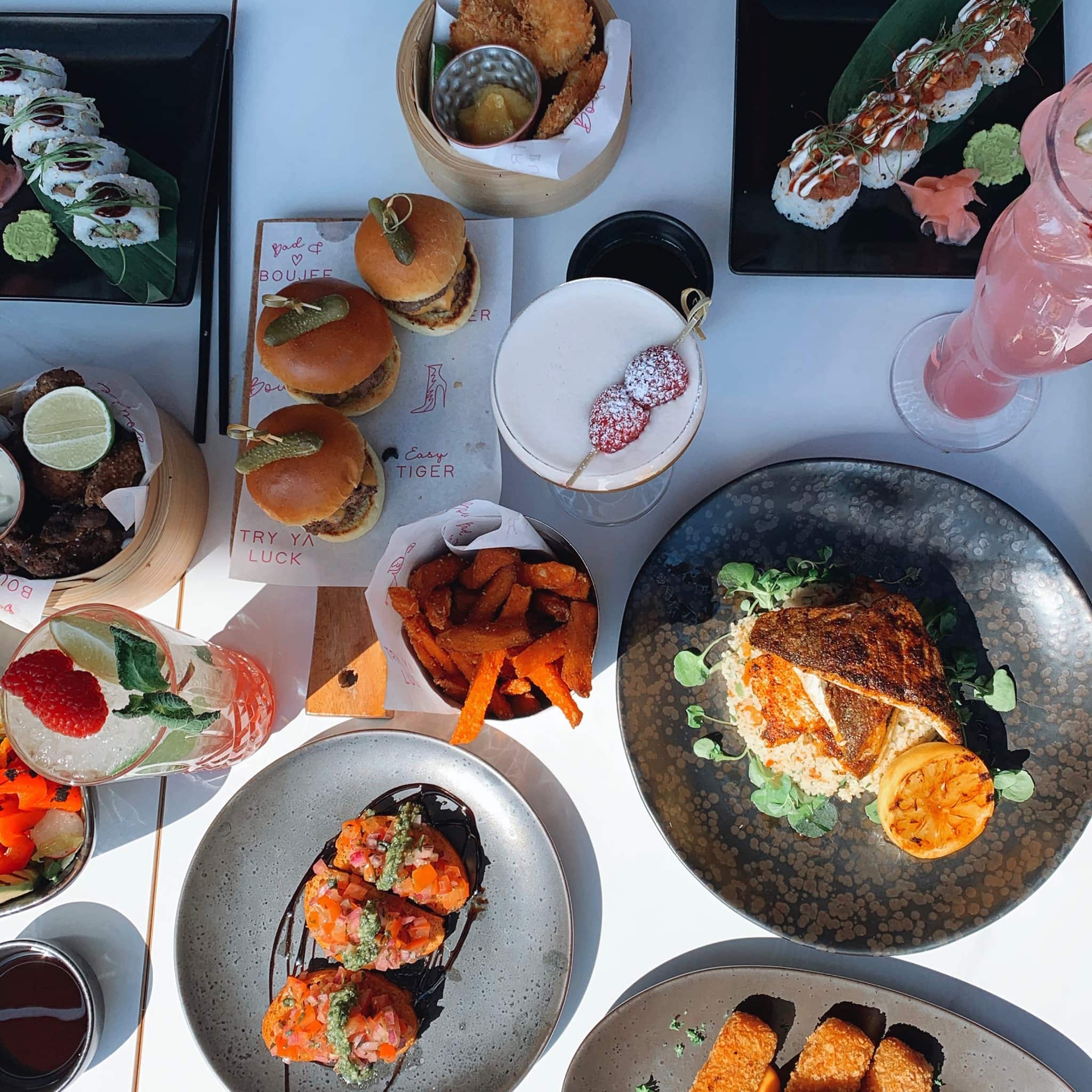 Its bright pink interior with feather walls, a shoe closet and flamingos dotted around ensure it really is a restaurant like no other. The vibe is definitely dress to impress so ladies, so get your camera ready and be prepared for a photo shoot as soon as you arrive.
Abbey Road Bar & Kitchen, Cavern Quarter
Where else would the Abbey Road Bar & Kitchen be located other than in Liverpool's famous Cavern Quarter. Opened originally in March 2020, the bar was only open for a few hours before local restrictions changed and they had to close again.
However, in July 2020 they reopened and welcomed guests to their themed bar & restaurant that pays homage to Liverpool's greatest success, The Beatles.
As a sports bar, you can expect to find large screen TV's and pool tables making it an ideal place to get together with friends and relax.
Expect murals of the fab four and of course, when the TV's aren't broadcasting the latest football, rugby, tennis and darks, The Beatles will be the soundtrack to your visit. Pub grub is on the menu throughout the day as well as a host of beers from the bar.
Brunchin, Richmond Street
Only just opened on Boxing Day, Brunchin is an all-day brunch restaurant located in the city centre, within Williamson Square to be exact.
Run by the family who owns Paolo and Donata's Deli in the square as well as Il Forno on Duke Street and Crust on Bold Street, this concept was thought up by the families son, who decided to do something with the empty space they rented above the deli.
With a focus on vegan eating, this brunch spot offers sleek and stylish interiors where pulled jackfruit, cauliflower steak and vegan butternut mac and cheese are the order of the day, all accompanied by a fresh smoothie or juice.
If you're a meat-eater, don't fret as they have a host of meat options available too.
Despite what the name would suggest, Brunchin isn't just open in the morning, you can visit throughout the day and into the evening making it the perfect spot to get your brunch fix whatever time of day.
So there you have some of Liverpool's newest additions in 2020 that you should visit in 2021. It has been an incredibly testing year for Liverpool's hospitality industry with unfortunately a number of the cities favourite bars & restaurants succumbing to the challenges.
However, we hope that with the new, extremely welcome additions to the drinking and dining scene the city will soon thrive again.
In the meantime, when restrictions permit, please support the hospitality industry where you can to ensure we don't lose any more of our most loved venues.